James Hardie Siding Evening Blue in Lenexa, Kansas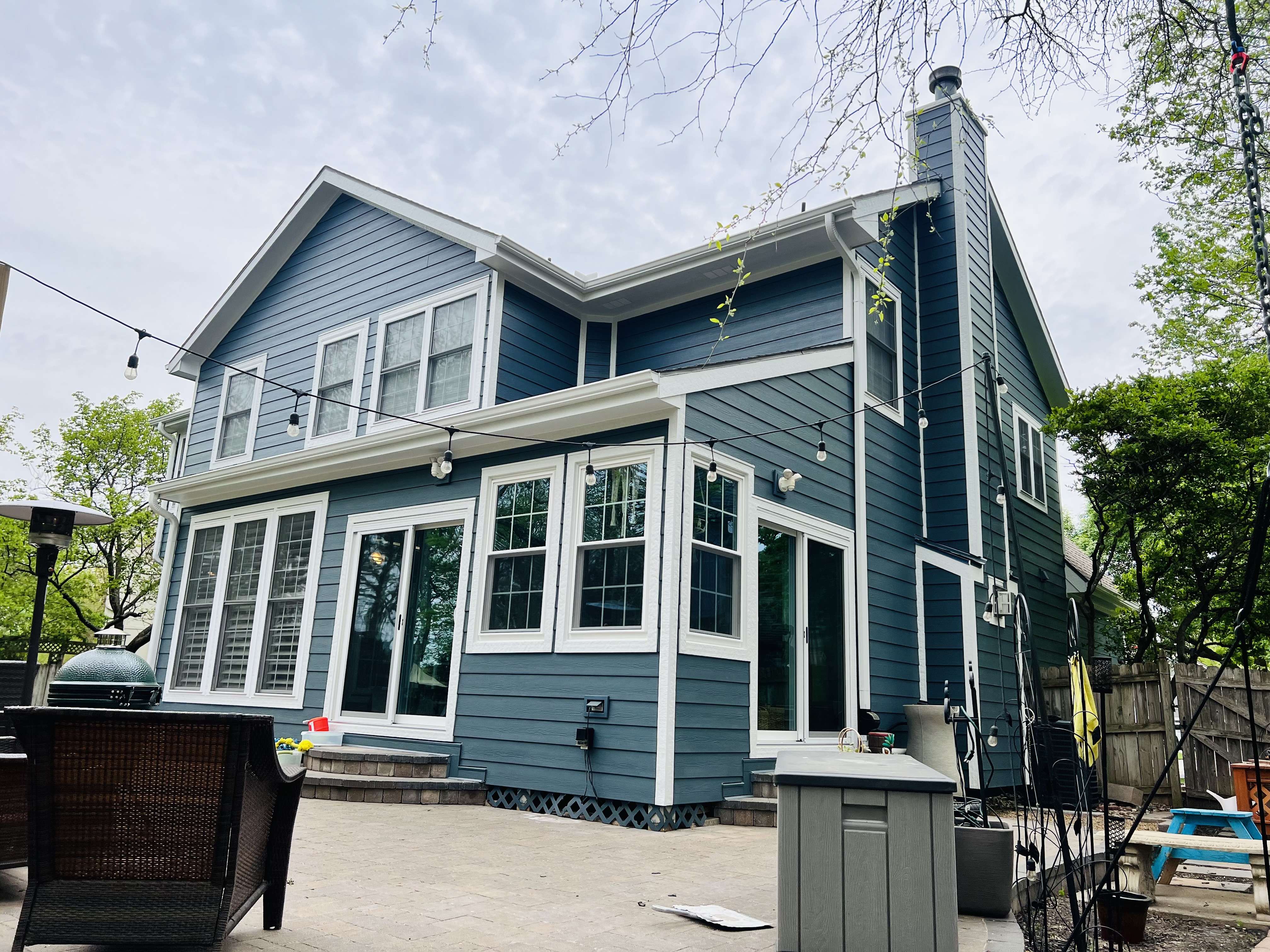 Siding replacement in Lenexa, Kansas, typically involves removing and replacing the exterior siding of a home or building. Siding replacement can improve the appearance, energy efficiency, and durability of your property.
Here are some steps you can take to find a reputable siding replacement contractor in Lenexa, Kansas:
1. Research Local Contractors: Start by searching online for siding replacement contractors in Lenexa, Kansas. You can use search engines, online directories, or ask for recommendations from friends, family, or neighbors who may have had similar work done.
2. Check Reviews and References: Read online reviews and ratings for the contractors you're considering. Additionally, ask the contractors for references from past customers so you can get an idea of their work quality and customer satisfaction.
3. Verify Credentials: Ensure that the contractors you're interested in are licensed and insured to work in Lenexa, Kansas. This is important for your protection and to guarantee that they meet local building codes and regulations.
4. Request Quotes: Contact multiple contractors and request detailed quotes for your siding replacement project. Make sure the quotes include a breakdown of materials, labor costs, and any additional expenses. This will help you compare and choose the best option for your budget.
5. Ask About Siding Options: Discuss your siding options with the contractors. They can provide advice on the types of siding materials available, such as vinyl, wood, fiber cement, or metal siding, and help you choose the best option based on your preferences and budget.
6. Inquire About Warranties: Ask about the warranties offered by the contractors and the manufacturers of the siding materials they use. A good warranty can provide peace of mind in case of any issues with the siding in the future.
7. Check for Permits: Inquire with the contractors about any necessary permits for the siding replacement project. They should be knowledgeable about local permit requirements and help you obtain them if needed.
8. Communication: Maintain open and clear communication with the chosen contractor throughout the project. Regular updates and discussions can help address any concerns or changes that may arise.
Remember that siding replacement is an investment in your home's appearance and protection. Take your time to research and choose a reputable contractor who can provide quality workmanship and materials for your Lenexa, Kansas, James Hardie siding replacement project. Or you can save the headache and call Sure Point Exteriors at 913.203. 8812 or visit us at www.surepointexteriors.com.
Location: Lenexa, KS
Project Image Gallery
LOOKING TO UPGRADE YOUR HOME? CALL YOUR KANSAS CITY JAMES HARDIE SIDING EXPERTS TODAY!