Are You Looking for a Leawood James Hardie Siding Contractor?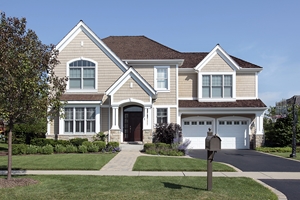 Sure Point Exteriors is proud to be a James Hardie Preferred Contractor. We are just as proud to be able to provide this quality service for you and other local homeowners in the Leawood area. We take great pride in the work that we do which is how we have been able to establish ourselves as a Leawood James Hardie siding contractor.
With over a hundred years of industry history behind the James Hardie name, you will love the products that we use when working on your exterior remodeling services. This includes a top-of-the-line line of products such as:
Fiber Cement Lap Siding
Fiber Cement Soffit Panels
Fiber Cement Siding Trim Boards
Fiber Cement Vertical Siding
Any of these, or a combination of several is sure to make your home look stunning as well as polished and complete. You can also benefit from an increase in the property value of your home. If you are even considering exterior renovations for your residential structure, give us a call today. We'd love to tell you more about James Hardie siding as well as the other exterior remodeling services we can offer you. Give our siding contractors in Leawood, KS a call today to get started.
Leawood Replacement Windows & Doors
Replacement doors and windows are another perfect way to improve your home. So how exactly does this impact your home?
Better Looking – Why settle for doors or windows that you do not love when we can provide you with some you will?
Improved Efficiency – Higher quality doors and windows help with better energy efficiency. This will help you save on energy bills and make your home more eco-friendly.
Enhanced Safety – No old doors or broken window locks. Help protect your home and the safety of your family by making it more difficult for criminals to get in.
Increased Property Value – Investing in better quality details for your home, like your windows and doors, also helps increase the property value of your home. This way, you can think of them as an investment and not an expense.
Making the decision to improve your home is a smart one. Turn your current house into the home of your dreams. Give us a call today in order to get started, whether you are interested in our replacement windows, doors, gutters, or James Hardie siding in Leawood, KS.
Leawood Gutters & Exterior Remodeling Services
Gutters are probably one of the most overlooked exterior systems, even though it happens to be one of the most important. Your gutters carry rain water from roof to downspout. This way the water is sent away from your home as opposed to soaking into the foundation.
When it comes to this and any exterior services in Leawood, KS you may need, now you know the name to call on. At Sure Point Exteriors we believe in going above and beyond when it comes to taking care of the needs of our clients. Now, let us demonstrate that to you in person.
Reviews and Testimonials for Sure Point Exteriors in Leawood
Exceeded all expectations even down to the quote. We weren't overcharged for any additional work and anything that was needed he informed us about before moving forward.
Wonderful experience all the way through. Dalton was so great to work with and his crew went to work and did a great job. I got everything that I was expecting at a price that was excellent for the work I requested. I will definitely recommend this company in the future.