Trust Our Pros To Help With Your James Hardie Siding Needs In Stilwell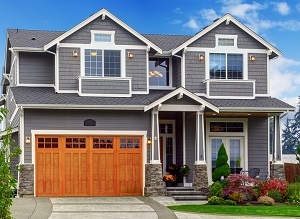 When it comes to Stilwell James Hardie siding, Sure Point Exteriors is the name you can trust. With our expert team of siding contractors and top-of-the-line James Hardie siding products, we are committed to transforming your home into a stunning masterpiece. Our professionals will ensure a seamless installation process, delivering exceptional results that exceed your expectations.
Discover the Benefits of James Hardie Siding
Choosing James Hardie siding for your Stilwell home brings a multitude of advantages. Here are some key benefits:
Unmatched durability and long-lasting performance
Resistance to extreme weather conditions, including hail and strong winds
Superior protection against moisture, rot, and pests
Enhanced energy efficiency, reducing heating and cooling costs
Low maintenance requirements, saving you time and effort
To experience these benefits firsthand, contact Sure Point Exteriors for exceptional James Hardie siding installation. Our team will guide you through the process, helping you select the perfect siding solution for your Stilwell home.
Why Choose Sure Point Exteriors for Your James Hardie Siding Service
When it comes to your James Hardie siding project in Stilwell, Sure Point Exteriors stands out from the competition. Here's why:
Expertise: Our experienced siding contractors have in-depth knowledge of James Hardie products and installation techniques, ensuring flawless results.
Premium Products: We exclusively use James Hardie siding, renowned for its exceptional quality, beauty, and longevity.
Exceptional Customer Service: We prioritize your satisfaction and strive to provide a seamless and stress-free experience from start to finish.
Attention to Detail: We pay meticulous attention to every aspect of the siding installation process, ensuring precise craftsmanship and a stunning final result.
Proven Track Record: With a long history of successful projects in Stilwell, we have built a solid reputation for delivering excellence.
Trust Sure Point Exteriors to elevate your Stilwell home with impeccable James Hardie siding installation. Contact us today to schedule a consultation and discuss your siding needs.
All Of The James Hardie Siding Services We Offer In Stilwell
James Hardie Siding
Gutters
Window Installation
Enhance Your Stilwell Home with James Hardie Siding
Stilwell homeowners, rejoice! Sure Point Exteriors is your go-to source for top-notch James Hardie siding solutions. Our expert team understands the unique needs of Stilwell homes and will work closely with you to create a customized siding plan that enhances your home's aesthetics and protection. From the initial consultation to the final installation, we'll be there every step of the way, ensuring a seamless and successful project.
All Of The Cities Where We Offer James Hardie Siding Services
Overland Park, KS
Leawood, KS
Lenexa, KS
Mission Hills, KS
Olathe, KS
Shawnee, KS
Prairie Village, KS
Kansas City, MO
Lees Summit, MO
Roeland Park, KS
About Stilwell
Located in the heart of beautiful Sure Point Exteriors, Stilwell is a vibrant community known for its picturesque landscapes and friendly residents. With its charming neighborhoods and close-knit atmosphere, Stilwell offers the perfect setting for homeowners looking to enhance their properties with James Hardie siding. At Sure Point Exteriors, we understand the unique character of Stilwell and are committed to preserving its beauty, one home at a time.
When you choose Sure Point Exteriors for your James Hardie siding needs in Stilwell, you're not just getting a siding contractor – you're gaining a partner who shares your vision for a stunning and durable home. Our team of experts will guide you through the entire process, from selecting the perfect James Hardie siding options to executing flawless installation. We take pride in our attention to detail, ensuring that every corner, trim, and panel is expertly crafted to elevate your home's curb appeal and protection.
Don't settle for anything less than the best. Contact Sure Point Exteriors today at 913-203-8812 to schedule a consultation with a James Hardie siding contractor, and experience the exceptional quality and service that Stilwell homeowners deserve. Let us help you transform your house into a masterpiece with James Hardie siding.
LOOKING TO UPGRADE YOUR HOME? CALL YOUR KANSAS CITY JAMES HARDIE SIDING EXPERTS TODAY!