Raytown James Hardie Siding Contractor & Exterior Remodeling Pro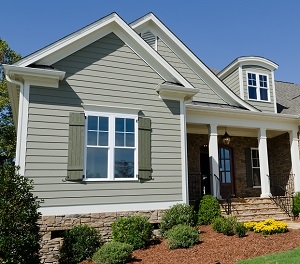 When you need exterior remodeling, you need service from a skilled James Hardie siding contractor in Raytown. The obvious choice is Sure Point Exteriors; we're committed to 100% customer satisfaction. We've worked hard to establish and maintain our impeccable reputation, and you'll quickly see why we're a top choice in the area.

Why James Hardie, you may ask?

Offers high-quality and innovative siding products Known for beauty, luxury, and class Resistant to natural wear and tear Peak performance, regardless of the climate High ROI - return on investment

Give our team of recommended experts a call for premium service in Raytown!
Top-of-the-Line Replacement Windows & Doors In Raytown
Improve your Raytown home with new doors and windows. Replacement windows and doors are a great way to improve your home and enjoy benefits such as improved beauty and increased property value.
You'll really appreciate working with us for your new doors and windows because:
The work isn't subcontracted, so you'll meet who you're working with from day one
We establish a strong relationship with clear communication
You don't have to deal with slick salespeople - we're just there to help you pick what works best for your home and your budget
Old windows and doors cause drafts in your home and spikes in your energy bills. Replace the old with modern, energy-efficient options, and you'll notice a difference in your comfort, costs, and enjoyment.
Want to know more? Call us now for a free estimate, and let us answer any questions you may have.
Raytown's Top Choice For Gutters & Exterior Remodeling Services
Let Sure Point Exteriors take care of your gutters and exterior remodeling needs. Your gutters are a vital part of your roofing system, and they protect your roof, siding, and foundation. Make it a point to invest in quality gutters and expert installation, then prioritize cleaning and maintenance for longevity and peak performance.
Contact us to review your options for new gutters. Our gutter replacement specialists will exceed your expectations.
Call today in Raytown for exceptional service from James Hardie siding contractors and gutter experts. Your satisfaction is always our number one priority.
LOOKING TO UPGRADE YOUR HOME? CALL YOUR KANSAS CITY JAMES HARDIE SIDING EXPERTS TODAY!