The Parkville James Hardie Siding Contractor You Can Trust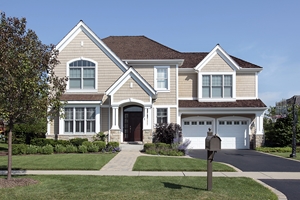 Sure Point Exteriors is proud to offer Parkville homeowners the best choice in siding with James Hardie. With its exceptional durability and weather resistance, James Hardie siding provides long-lasting protection for your home in the face of Parkville's diverse climate. Our team of skilled professionals is well-versed in the unique characteristics of Parkville, ensuring that your James Hardie siding installation is tailored to withstand the region's harsh winters, hot summers, and everything in between. Are you looking for a reliable Parkville James Hardie siding contractor to help enhance your home? If so, give our team of skilled pros a call today and let us show you the kind of quality results that have helped make us the most trusted name the area has to offer.
Benefits of James Hardie siding:
Unparalleled Durability: James Hardie siding is engineered to withstand the harshest elements, including extreme temperatures, high winds, and heavy rain. It resists warping, rotting, and cracking, ensuring a long-lasting and low-maintenance solution for your home.
Enhanced Curb Appeal: With a wide range of colors and styles, James Hardie siding allows you to customize the exterior of your home to reflect your personal taste and complement Parkville's unique architectural character. Boost your home's curb appeal and make a lasting impression in the neighborhood.
Protection from the Elements: Parkville experiences a variety of weather conditions throughout the year, from freezing temperatures to scorching heat. James Hardie siding provides exceptional protection against moisture, pests, and even fire, giving you peace of mind and safeguarding your investment.
To experience the remarkable benefits of James Hardie siding for yourself, contact Sure Point Exteriors today. Our expert team will guide you through the process, from selecting the perfect siding to flawless installation, ensuring your home remains beautiful and protected for years to come.
Revitalize Your Home With Window Replacement In Parkville
Looking to upgrade your windows in Parkville? Sure Point Exteriors is your trusted source for professional window replacement services. Our team understands the importance of energy efficiency, functionality, and aesthetics when it comes to windows, and we offer a wide selection of high-quality options to meet your unique needs.
Replacing your windows in Parkville brings a range of benefits, including:
Improved Energy Efficiency: Upgrading to energy-efficient windows can significantly reduce heating and cooling costs by minimizing heat transfer and preventing drafts. Keep your home comfortable year-round while saving on utility bills.
Enhanced Beauty and Comfort: New windows can transform the appearance of your home both inside and out. Choose from various styles, finishes, and glass options to complement your home's architecture and create a more comfortable living space.
Noise Reduction: Living in a vibrant community like Parkville can come with some noise challenges. Our high-quality replacement windows are designed to minimize outside noise, allowing you to enjoy a quieter and more peaceful home environment.
For expert window replacement services in Parkville, contact Sure Point Exteriors today. Our team will guide you through the selection process, ensuring that your new windows meet your unique style preferences and performance requirements.
Comprehensive Gutters & Exterior Remodeling Solutions in Parkville
For all your gutter and exterior remodeling needs in Parkville, turn to Sure Point Exteriors! Our expert team offers a comprehensive range of services to keep your home in prime condition and looking its best. From gutter installations and repairs to complete exterior remodeling projects, we've got you covered. With our dedication to quality craftsmanship and customer satisfaction, you can trust us to enhance the functionality and curb appeal of your Parkville home. Contact us today to explore our tailored solutions for gutters and exterior remodeling that perfectly suit your needs.
LOOKING TO UPGRADE YOUR HOME? CALL YOUR KANSAS CITY JAMES HARDIE SIDING EXPERTS TODAY!