Your Local Mission James Hardie Siding Contractor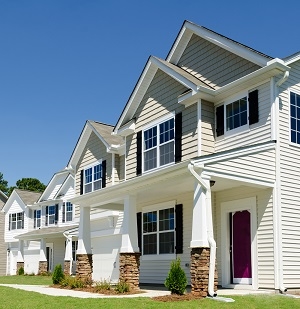 As one of the few James Hardie recommended installers here in Mission and surrounding areas, Sure Point Exteriors takes this honor seriously. Working with top of the line materials is not about the job costing too much. It is about getting value. Our Mission James Hardie siding contractors know how to provide value, quality customer service and efficient work.
When you get exceptional results for a beyond reasonable price, that means you have gotten great value. Getting a cheap price for shoddy materials and inferior workmanship is not value, a deal or a smart move to make. The work we do and the products we use are built to last.
You get long term performance and extended longevity by letting our renovation and siding contractors in Mission, KS take care of your exterior remodeling needs. Did you realize that the single most popular brand of siding in the US today is HardiePlank ® Lap Siding? So it only makes sense to want to incorporate this into your home.
Using styles that are all Engineered for Climate ® means adaptability to all climates and elements. Plus, you also get ColorPlus ® Technology - a color system that promises longevity in vibrancy of color. There are so many benefits to investing in James Hardie siding, and we'd be happy to tell you more. Just give our siding contractors in Mission, KS a call today!
Mission Replacement Windows & Doors
There are countless benefits to addressing your need for new doors and replacement windows in Mission, KS. When we meet with you for a consultation we can provide you with all of the information that you need to understand the benefits. We are also a Simonton Preferred Installer so you can feel confident about the products and the end result.
Aside from all this, what also makes us the preferred exterior renovation service provider are details like:
References – Plenty of so-called pros promise them but can not deliver when asked. We have a list already compiled of previous customers who will be glad to share their experience with you.
No Sub-Contractors – If we take on a job, we are the team who is also going to actually do the work. There is nothing more sneaky then hiring one professional to have a crew of sub-contractors show up to do the job.
No Tricky Salesperson – There is nothing more infuriating then calling on a so-called pro who then quickly switches into salesperson mode. We work with you to provide you with what you want, it is about supply and not sales.
Our job is to provide you with the work that you need done. Our goal is to provide you with excellence in workmanship so that you never want to call on another company again for this type of work.
Mission Gutters & Exterior Remodeling Services
Do not make the same common mistake so many other homeowners do – forget about your gutters in Mission, KS. Aside from your roof, your gutters are probably the second most important exterior system of your home. Yet so many homes have broken, outdated or no gutters in place.
Let Sure Point Exteriors be the name you call on for your exterior remodeling needs. We offer a variety of quality services and just as superior materials to get the job done.
Reviews and Testimonials for Sure Point Exteriors in Mission