Professional James Hardie Siding Contractor For Lawrence Homes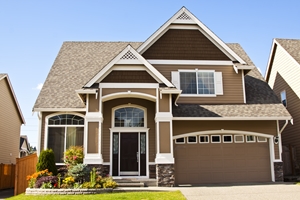 At Sure Point Exteriors, we're dedicated to being the number one James Hardie siding contractor for Lawrence homes. With a commitment to professionalism and excellence, we bring years of experience to every project, ensuring that your home receives the top-tier treatment it deserves.
Our team of skilled professionals understands the unique character of Lawrence homes and the importance of siding that can withstand the test of time and the region's varied weather conditions. That's why we exclusively work with James Hardie siding products – a mark of quality and durability in the industry.
When you choose Sure Point Exteriors, you're choosing a partner that values attention to detail, personalized solutions, and customer satisfaction above all. From the initial consultation to the final nail, we focus on transforming your Lawrence home into a masterpiece of protection and aesthetics.
Elevate your home's curb appeal, durability, and value with Sure Point Exteriors, your trusted James Hardie siding contractor in Lawrence. Contact us today to embark on a journey of enhancing your home's beauty and protection.
Let Us Be Your Trusted Siding Contractor In Lawrence
Discover unparalleled siding solutions with Sure Point Exteriors, your trusted partner for transforming Lawrence homes. With a steadfast commitment to excellence, we invite you to entrust your siding project to our capable hands. Our team of experienced professionals understands the unique charm of Lawrence and the importance of siding that not only enhances aesthetics but also withstands the elements. At Sure Point Exteriors, we prioritize your vision, offering tailored solutions that blend seamlessly with your home's architecture and your preferences. Let us bring lasting value, protection, and beauty to your Lawrence residence. You can also ask us about our variety of other services, like replacement windows.
Lawrence Homeowners Choose Us To Provide James Hardie Siding
When Lawrence homeowners seek superior siding solutions, they turn to Sure Point Exteriors with confidence. Our dedication to quality and craftsmanship sets us apart as the preferred choice for James Hardie siding. Backed by years of experience, our team ensures flawless installation and maintenance. We understand that your home is a reflection of your unique style, which is why we offer an array of James Hardie siding options. Choose Sure Point Exteriors, where homeowners' trust is met with exceptional results.
LOOKING TO UPGRADE YOUR HOME? CALL YOUR KANSAS CITY JAMES HARDIE SIDING EXPERTS TODAY!