Elevate Your Home with Stunning Gardner James Hardie Siding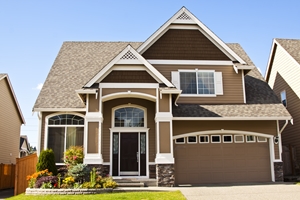 When it comes to transforming your home in Gardner, Sure Point Exteriors is the expert in James Hardie siding you can rely on. Our professional siding contractors and top-of-the-line James Hardie siding products will add an exquisite touch to your property. Trust us to bring out the best in your home with our exceptional craftsmanship and unparalleled service.
At Sure Point Exteriors, we understand the importance of both aesthetics and functionality. That's why our Gardner James Hardie siding combines timeless beauty with unmatched durability. Whether you're looking to update your home's exterior, increase its value, or enhance its energy efficiency, our James Hardie siding solutions are designed to exceed your expectations.
Unleash the Power of Gardner James Hardie Siding
Choosing James Hardie siding for your Gardner home offers a range of benefits that will make you fall in love with your property all over again. Here are some reasons why homeowners in Gardner trust Sure Point Exteriors for their siding needs:
Unparalleled Durability: James Hardie siding is engineered to withstand the harshest elements, including extreme temperatures, moisture, and pests.
Enhanced Curb Appeal: Our Gardner James Hardie siding options come in a variety of styles, textures, and colors, allowing you to customize your home's look to match your personal taste.
Low Maintenance: Say goodbye to constant painting and repairs. James Hardie siding is resistant to fading, chipping, and cracking, ensuring a long-lasting and low-maintenance solution.
Superior Protection: Protect your home and loved ones with the fire-resistant properties of James Hardie siding, providing you with peace of mind.
Energy Efficiency: Reduce your energy bills and carbon footprint with James Hardie siding's exceptional insulation, helping to keep your home comfortable all year round.
Ready to enhance your home with Gardner James Hardie siding? Contact Sure Point Exteriors today and let our experts guide you through the selection and installation process. Our skilled team will ensure a seamless and stress-free experience from start to finish.
Why Choose Sure Point Exteriors for Your Gardner James Hardie Siding
When it comes to your James Hardie siding project in Gardner, Sure Point Exteriors is the clear choice. Here's why:
Expertise and Experience: With years of experience, our siding contractors have the knowledge and skills necessary to handle any James Hardie siding installation with precision and care.
Premium Quality: We exclusively use James Hardie siding, known for its exceptional quality and innovative design, ensuring a flawless and long-lasting result.
Customer Satisfaction: We prioritize your satisfaction and are committed to providing exceptional service, from the initial consultation to the final walkthrough.
Attention to Detail: Our meticulous attention to detail guarantees a seamless installation, enhancing the beauty and protection of your home.
Local Expertise: As a locally-owned company, we understand the unique needs and style preferences of Gardner homeowners. We are familiar with the architectural styles prevalent in Gardner and can help you choose the perfect James Hardie siding that complements your home's aesthetics.
All Of The James Hardie Siding Services We Offer In Gardner
James Hardie Siding
Gutters
Window Installation
Elevate Your Gardner Home with James Hardie Siding
When it comes to enhancing your Gardner home, Sure Point Exteriors offers a comprehensive range of services to meet all your James Hardie siding needs. Our team of skilled professionals is ready to transform your property into a stunning masterpiece. From installing high-quality James Hardie siding that withstands the test of time to ensuring seamless gutter systems and expert window installations, we have you covered.
All Of The Cities Where We Offer James Hardie Siding Services
Overland Park, KS
Leawood, KS
Lenexa, KS
Mission Hills, KS
Olathe, KS
Shawnee, KS
Prairie Village, KS
Kansas City, MO
Lees Summit, MO
Roeland Park, KS
About Gardner
Gardner, located in the heart of Sure Point Exteriors, is a thriving community known for its charming neighborhoods and friendly atmosphere. With its picturesque landscapes and a strong sense of community, Gardner offers the perfect backdrop for homeowners who value quality and aesthetics.
When it comes to James Hardie siding services in Gardner, Sure Point Exteriors stands out as the premier choice. We understand the unique needs of Gardner homeowners and strive to deliver exceptional craftsmanship and superior customer service. With our expertise and dedication to excellence, we will transform your Gardner home into a haven that combines style, durability, and functionality.
Don't wait any longer to enhance the beauty and protection of your Gardner home. Contact Sure Point Exteriors today at 913-203-8812 to schedule a consultation for siding in Gardner. Let us bring your vision to life with our top-of-the-line James Hardie siding and professional services.
LOOKING TO UPGRADE YOUR HOME? CALL YOUR KANSAS CITY JAMES HARDIE SIDING EXPERTS TODAY!