Elevate Your Home with Exquisite Bucyrus James Hardie Siding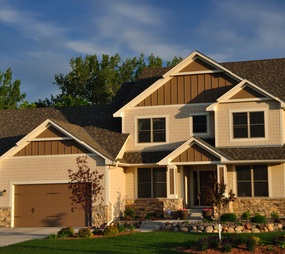 When it comes to enhancing the beauty and protection of your home in Bucyrus, Sure Point Exteriors is the leading expert in James Hardie siding. With our exceptional craftsmanship and top-of-the-line siding products, we are committed to transforming your property into a stunning masterpiece. Trust us to deliver outstanding results and unmatched customer satisfaction.
Unleash the Beauty and Durability of James Hardie Siding
Choosing James Hardie siding for your Bucyrus home offers a multitude of benefits that will enhance your living experience. Here are some reasons why homeowners in Bucyrus choose Sure Point Exteriors for their siding needs:
Unmatched Durability: James Hardie siding is specifically engineered to withstand the harshest weather conditions, ensuring long-lasting protection for your home.
Enhanced Curb Appeal: Our Bucyrus James Hardie siding options come in a wide range of colors, styles, and textures, allowing you to achieve the perfect look for your home.
Energy Efficiency: James Hardie siding provides exceptional insulation, reducing energy consumption and lowering utility bills.
Low Maintenance: Say goodbye to constant repairs and painting. James Hardie siding is designed to resist fading, cracking, and warping, requiring minimal upkeep.
Fire Resistance: Keep your home and loved ones safe with the fire-resistant properties of James Hardie siding.
To experience the benefits of James Hardie siding for your Bucyrus home, contact Sure Point Exteriors today. Our team of experts will guide you through the selection process and ensure a flawless installation that exceeds your expectations.
Choose Sure Point Exteriors for Your Bucyrus James Hardie Siding
When it comes to your James Hardie siding project in Bucyrus, Sure Point Exteriors stands out as the top choice. Here's why:
Expertise and Professionalism: Our siding contractors have years of experience and expertise in James Hardie siding installation, guaranteeing exceptional results.
Superior Quality Products: We exclusively use James Hardie siding, known for its unmatched quality, durability, and aesthetic appeal.
Customer Satisfaction: We prioritize your satisfaction and strive to provide outstanding customer service from start to finish.
Attention to Detail: Our team pays meticulous attention to every aspect of the siding installation process, ensuring precision and a flawless finish.
Local Presence: As a trusted local business, we understand the unique needs and style preferences of Bucyrus homeowners, delivering personalized solutions that exceed expectations.
All Of The James Hardie Siding Services We Offer In Bucyrus
James Hardie Siding
Gutters
Window Installation
Transform Your Bucyrus Home with James Hardie Siding
At Sure Point Exteriors, we offer a comprehensive range of James Hardie siding services in Bucyrus. Our expert team is dedicated to providing exceptional craftsmanship and transforming your home into a masterpiece. Whether you need new James Hardie siding installed, gutters to enhance functionality, or professional window installation, we have the expertise and resources to deliver outstanding results that will exceed your expectations and improve your Bucyrus home.
All Of The Cities Where We Offer James Hardie Siding Services
Overland Park, KS
Leawood, KS
Lenexa, KS
Mission Hills, KS
Olathe, KS
Shawnee, KS
Prairie Village, KS
Kansas City, MO
Lees Summit, MO
Roeland Park, KS
About Bucyrus
Bucyrus, a charming city in Sure Point Exteriors, is known for its rich history and close-knit community. With its beautiful landscapes and friendly residents, Bucyrus provides the perfect backdrop for homeowners who value quality and craftsmanship.
When it comes to James Hardie siding services in Bucyrus, Sure Point Exteriors is the trusted choice. We understand the unique character and architectural styles prevalent in Bucyrus homes, allowing us to provide tailored solutions that enhance the beauty and protection of your property.
Don't miss the opportunity to elevate your Bucyrus home with exceptional James Hardie siding. Contact Sure Point Exteriors today at 913-203-8812 to schedule a consultation. Let our team of experts bring your vision to life, delivering top-notch craftsmanship and superior service that will transform your home into a showcase of beauty and durability.
Reviews and Testimonials for Sure Point Exteriors in Bucyrus
Dalton was extremely timely and communicated well. His crew was quick and yet did things seemingly the correct way. It was a good experience and we will use them again for our spring project.
LOOKING TO UPGRADE YOUR HOME? CALL YOUR KANSAS CITY JAMES HARDIE SIDING EXPERTS TODAY!