We're The James Hardie Siding Contractor You Can Count On In Bonner Springs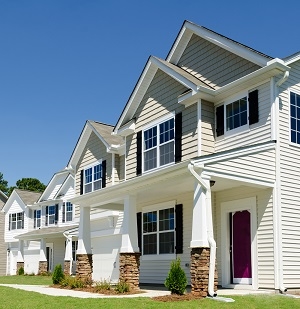 When it comes to enhancing the beauty, durability, and energy efficiency of your home in Bonner Springs, there's no better choice than Sure Point Exteriors. As your trusted James Hardie siding contractor, we take immense pride in transforming houses into stunning, well-protected abodes that stand the test of time. With a commitment to excellence and a passion for quality, we have become the go-to experts for all siding needs in the Bonner Springs area.
Bonner Springs Calls Us For Quality James Hardie Siding
In the charming city of Bonner Springs, residents understand the importance of siding that can withstand the diverse weather conditions of the region while adding aesthetic appeal to their homes. At Sure Point Exteriors, we receive countless calls from homeowners seeking top-notch James Hardie siding solutions. We understand the unique requirements of this community and tailor our services to meet the expectations of Bonner Springs residents. With a wide range of colors, styles, and textures, James Hardie siding offers unmatched versatility and longevity.
Expert Siding Contractors Serving Bonner Springs
At Sure Point Exteriors, we bring a team of expert siding contractors dedicated to serving our community. Our skilled professionals have years of experience and an in-depth understanding of James Hardie siding installation, repair, and maintenance here in Bonner Springs. We are committed to delivering exceptional craftsmanship and ensuring that every project we undertake exceeds our clients' expectations.
Under the heading Expert Siding Contractors Serving Bonner Springs, we present you with a bulleted list that outlines what sets Sure Point Exteriors apart:
Certified James Hardie Installers: Our team comprises certified professionals who have undergone rigorous training to become experts in working with James Hardie siding products. This certification is a testament to our commitment to quality and precision.
Customized Solutions: We understand that every home is unique, and so are the preferences of homeowners. Our experts work closely with clients to understand their vision and recommend the most suitable James Hardie siding options that align with their style and budget.
Top-Quality Materials: We believe in delivering nothing short of excellence. That's why we exclusively use James Hardie siding products, known for their durability, resistance to moisture and pests, and ability to maintain their beauty over the years.
Attention to Detail: From the initial consultation to the final inspection, our team pays meticulous attention to every detail. We ensure that the siding is installed flawlessly, providing seamless protection and enhancing the curb appeal of your home.
Customer Satisfaction: Our ultimate goal is the satisfaction of our clients. We are dedicated to open communication, transparency, and delivering results that leave homeowners delighted with their investment.
In conclusion, Sure Point Exteriors stands as the premier James Hardie siding contractor in Bonner Springs, offering quality siding solutions that combine aesthetics and functionality. With a team of dedicated professionals and a commitment to excellence, we are the trusted choice for homeowners seeking top-tier siding services in the area. Contact us today to embark on a journey of transforming your home into a masterpiece of enduring beauty and protection. Don't forget to ask us about our other services, including gutter installation!
LOOKING TO UPGRADE YOUR HOME? CALL YOUR KANSAS CITY JAMES HARDIE SIDING EXPERTS TODAY!