Looking For A Superior James Hardie Exterior Siding Contractor In Blue Springs?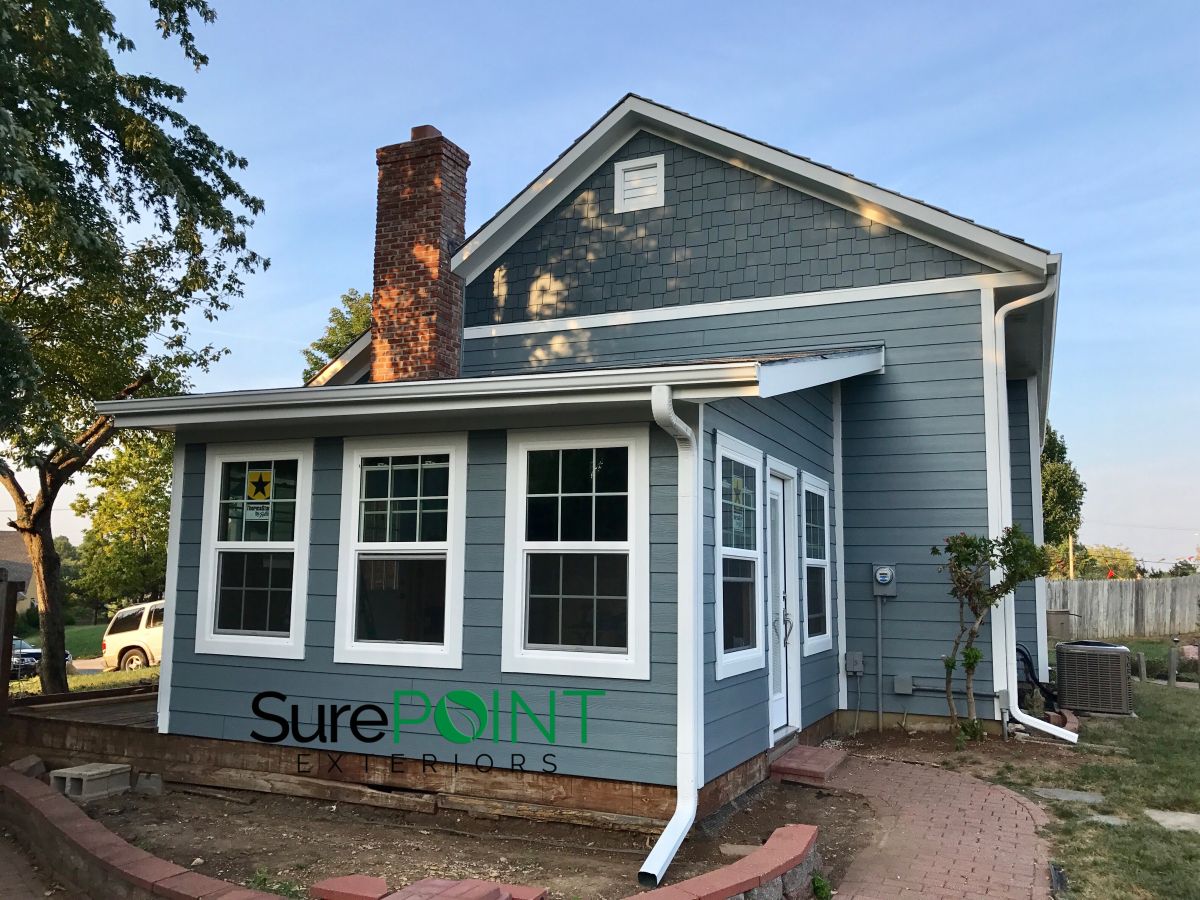 In Missouri, the outer features of a home have to stand up to an extreme climate during many months of the year. The humidity alone can cause problems with materials that aren't durable.
If you are looking for durable products to keep your Blue Springs home protected, Sure Point Exteriors can help. We provide quality products and quality installation for your Blue Springs exterior home improvements.
Energy Star Products
James Hardie Preferred Contractor
Simonton Preferred Installer
BBB Accredited Business
Why Choose James Hardie Siding?
If you are looking for durable siding for your Blue Springs home, James Hardie makes wonderful products in fiber cement that are well loved by many homeowners.
Non-combustible
Resists Rot
Impervious to Termites
Won't Melt
Weather Resistant
Paintable Options
Resists Warping & Shrinking
There are plenty of beautiful colors available that will go great with your home.
What you'll love about this durable siding is that the products and installation are warranted. HardiePlank® Lap Siding comes with a 30 year LTD warranty.
James Hardie Siding Styles:
Vertical Siding
Shingle Siding
Lapboard Siding
Panel Siding
Artisan Siding
Sure Point Exteriors only works with the best, and that's why we choose to install James Hardie Siding. In our humid climate here in Blue Springs, nothing could be more important than having a durable exterior siding.
Blue Springs Replacement Windows & Doors
Replacement doors and windows are another perfect way to improve your home. So how exactly does this impact your home?
Better Looking – Why settle for doors or windows that you do not love when we can provide you with some you will?
Improved Efficiency – Higher quality doors and windows help with better energy efficiency. This will help you save on energy bills and make your home more eco-friendly.
Enhanced Safety – No old doors or broken window locks. Help protect your home and the safety of your family by making it more difficult for criminals to get in.
Increased Property Value – Investing in better quality details for your home, like your windows and doors, also helps increase the property value of your home. This way, you can think of them as an investment and not an expense.
Making the decision to improve your home is a smart one. Turn your current house into the home of your dreams. Give us a call today in order to get started, whether you are interested in our replacement windows, doors, gutters, or James Hardie siding in Blue Springs, MO.
Blue Springs Gutters & Exterior Remodeling Services
Gutters are probably one of the most overlooked exterior systems, even though it happens to be one of the most important. Your gutters carry rain water from roof to downspout. This way the water is sent away from your home as opposed to soaking into the foundation.
When it comes to this and any exterior services in Blue Springs, MO you may need, now you know the name to call on. At Sure Point Exteriors we believe in going above and beyond when it comes to taking care of the needs of our clients. Now, let us demonstrate that to you in person.
Reviews and Testimonials for Sure Point Exteriors in Blue Springs
LOOKING TO UPGRADE YOUR HOME? CALL YOUR KANSAS CITY JAMES HARDIE SIDING EXPERTS TODAY!