The Belton James Hardie Siding Contractor You Can Trust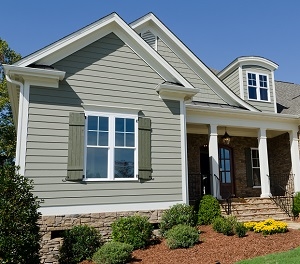 Sure Point Exteriors is the obvious choice in Belton because we're a James Hardie siding recommended installer. Having a reliable contractor to handle your remodeling and home improvement needs is important. Updating your current house so that it becomes the home of your dreams is a big deal.
There's no good reason to settle for inferior-quality materials or craftsmanship. The goal is to make sure the completed work exceeds your expectations.
If you're planning to use James Hardie siding for your renovations, we're the company to trust to complete the work for you. And if you're not already familiar with this line of materials, now is the perfect time to learn about what makes it superior. For service in Belton, call us to schedule your appointment.
Belton's Top Resource For Replacement Windows & Doors
Adding new windows and doors to your Belton home incorporates plenty of natural light and beauty, but you'll find plenty more reasons why this is the ideal upgrade for your home. New doors and windows beautify your home and offer other additional benefits such as:
Value - Quality replacement doors and windows will increase your property value, offering a good return on your investment.
Security - Don't let old windows and doors be a safety or security hazard, allowing easy access to your home.
Energy Efficiency - Modern windows and doors have better energy efficiency, which lowers your utility costs and makes your home greener.
Replacement doors and windows offer better noise reduction, protection against dust and allergens, and take your curb appeal to all new heights.
Homeowners In Belton Rely On Us For Gutters & Exterior Remodeling Services
At Sure Point Exteriors, we understand the importance of improving your home with gutters and other exterior remodeling services. Your gutters serve an essential function in collecting rainwater, sending it to the downspout, and transporting it away from your home's foundation.
Please don't make the mistake of settling for inferior service or products when it comes to your gutters, windows, siding, or any other aspect of your home. Call us today in Belton, and feel confident about partnering with a James Hardie siding professional.
LOOKING TO UPGRADE YOUR HOME? CALL YOUR KANSAS CITY JAMES HARDIE SIDING EXPERTS TODAY!