How to Pick the Perfect Front Door for your Kansas City Home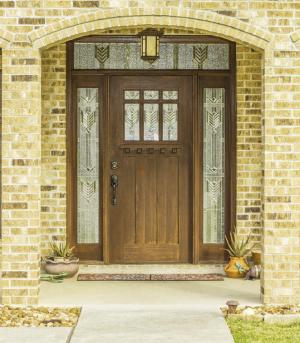 Exterior remodeling is the key to curb appeal, as well as your own pride of ownership. While every detail really does matter, the front door is definitely a focal point and a statement piece detail. Of course, maybe you don't want your front door to steal the show and that's fine too. The choice is yours and it's as personal a decision as any other part of your exterior remodeling or improvement. Just like it's important to work with a professional that's ready to show you a variety of options and help you make a good choice. So selecting the right contractor to work with is also an important part of the job.
Doors Make All of the Difference
Whether you're listing your home for sale or trying to put the finishing touches on your home sweet home, don't overlook the importance of the front door. It's not only about visual aesthetics, it can be quite symbolic. For practices like Feng Shui, the front door holds a great deal of significance. Plus, to put it simply, this is where the curb appeal starts and you begin making first impressions.
Take the other colors of your exterior into consideration. This includes even your landscaping, especially details near the front entrance. If you have too many wild colors going, it's going to be chaotic and cluttered looking.
It's also ideal to take neighboring houses into consideration. You don't want to make choices that cause you to stand out too much. However, you also don't want to fade into the background.
Of course, think about the style of your home and make choices that are fitting. Not every door style of color works with the architectural style of your current home.
Contrast is usually the key to having success with the door color you select. It's a pop of contrast and can break up an otherwise neutral of subtle color scheme.
Remember that this isn't the only detail that's going to express your taste and personality. Don't put too much emphasis on picking a door as though that will be the only detail that reflects your uniqueness.
Understanding Color Psychology
Colors make a huge impact on the look you want to create, as well as the mood. Colors that help relay a more positive feeling are:
Yellow
Orange
Pink
Green
Magenta
Baby Blue
Colors that are more serious:
Navy
Grey
Red
Violet
White
There are so many details that go into exterior remodeling and you need a professional to walk you through the process. Get yourself the best possible results by calling Sure Point Exteriors the leading resource for James Hardie siding and other quality materials.
If you are looking for tips or advice from a professional James Hardie siding in Kansas City, please call 913-203-8812 or complete our online request form.