James Hardie Siding vs. Vinyl Siding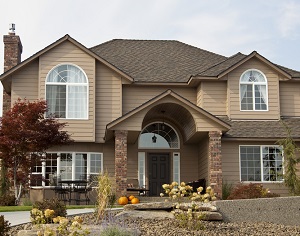 Not only can siding replacement give your home an extra curb appeal boost, but it can also increase property values and energy efficiency. Just like most things, however, these improvements depend on the kind of siding you choose for your Kansas City home. It can be hard to settle on the right siding considering how many styles, brands, and materials that are available to you. Two of the most popular siding materials are fiber cement and vinyl, each with its own separate advantages. This article from Sure Point Exteriors will take a closer look at each of these siding options and compare them to see which might be right for you.
Benefits Of James Hardie Siding
One of the country's top manufacturers of fiber cement siding is James Hardie. Cement, sand, and cellulose fibers are carefully combined to create a unique composition that is both beautiful and protective. You can expect just a few of the following advantages from James Hardie siding:
Low maintenance: Keeping up with your James Hardie siding is as easy as taking a garden hose and brush to it twice a year. Sanding, repainting, or staining aren't necessary!
Durability: James Hardie siding is designed to stand up to elemental damage like humidity, extreme temperature changes, and hail. No matter what the weather looks like outside, this siding will withstand it.
Fire & pest resistance: Any pest from woodpeckers to termites won't be able to damage James Hardie siding. It is also fire-resistant, adding extra safety features to your home that other siding materials like wood can't provide.
Benefits Of Vinyl Siding
Vinyl siding, originally designed as an alternative to aluminum siding, has been around for decades. It's undergone many improvements and developments since its invention, meaning it can offer homeowners a variety of attractive benefits like:
Easy installation: Because it is lightweight and manufactured with pre-drilled holes, the installation process for vinyl siding is quick and easy. Working with a professionally trained installer adds speed and quality to keep the siding in good shape.
Cost-effectiveness: Vinyl siding tends to be much cheaper than wood and brick, despite having a variety of grades. It also lasts for several years with little maintenance, giving you a return on your investment.
Versatility: Vinyl siding can be made to look like just about any other kind of siding out there– from wood shake to stone, there's a vinyl product out there that mimics it! There is also a myriad of colors and textures for you to choose from, as well.
So… Which Is The Best Choice For You?
Now that you know the benefits that both James Hardie and vinyl siding offer you, you can make an informed decision on which works best for you and your home. When it comes to choosing between these two materials, you should consider:
Expectation of maintenance
Energy efficiency goals
Home style
Budget
Climate/weather
If you still aren't sure, give the pros at Sure Point Exteriors a call today. We are a siding contractor that is knowledgeable about both of these siding types, so any questions or concerns you've got considering vinyl or James Hardie siding can be directed to us. We can even tell you more about windows, doors, and gutters if you're curious.