Fiber Cement Siding Trim Boards in Kansas City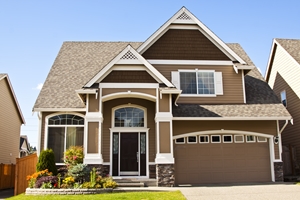 As the local leading siding contractor in Kansas City, we think about every last detail. This includes the James Hardie Fiber Cement Siding Trim Boards in Kansas City we use to complete the job.
As a James Hardie Preferred Contractor, we rely on the HardieTrim ® boards to provide unmatched durability as well as offer an assortment of design possibilities. This includes providing for trim, corners, column wraps, gables, fascia, windows, doors and so much more. It even takes care of decorative trim and other non-structural architectural details.
You can also feel good knowing that HardieTrim boards come with a 15 year transferable, limited warranty. The work you get done for your home is only as good as the materials and workmanship that gets invested into it. The good news is that our James Hardie siding contractors can provide the top notch of both for your residential project.
Installing Fiber Cement Siding Trim Boards in Kansas City
Adding Fiber Cement Siding Trim Boards not only adds richness and beauty, it offers long-lasting protection from the elements. Getting exterior remodeling is all about being able to enhance the look and improve the performance. This is exactly what we can provide you with by using materials from James Hardie siding in Kansas City.
You have style options to choose from, when it comes to your HardieTrim ® Boards including:
Smooth
Rustic
Crown Moulding
Rustic Grain Batten Boards
Smooth Batten Boards
Of course, these boards also come complete with the ColorPlus ® Technology finish so you know you can retain that same vibrancy in the color for years to come. The variety of styles makes it possible to pair this superior quality product with just about any style home that you have, including modern and contemporary or classic. Nothing quite completes the look and helps it feel polished like one of these finishing touches.
In order to be able to stand behind our work, we need to be able to work with materials that we feel good about as well. What better match up then James Hardie, a company that stands behind the products that they make. There is no reason to settle for anything less than the best, when it comes to your home.
Kansas City Fiber Cement Siding Trim Board Professionals
These quality finishing touches are truly what help make your house a home. These are the details that help make it unique to you and your family. At Sure Point Exteriors, we are proud to be a part of making this possible for you and your loved ones.
When quality matters, as it always should for your home, you can count on us. This is because you re also counting on the exceptional quality of James Hardie products, including Fiber Cement Siding Trim Boards in Kansas City. Don't keep putting off until tomorrow what we could be improving for you today!
If you are interested in an estimate for James Hardie fiber cement siding trim boards in Kansas City or the surrounding areas, please call 913-203-8812 or complete our online request form.