Fiber Cement Lap Siding in Kansas City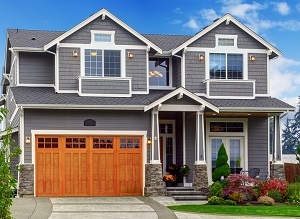 Found on over 5.5 million residential homes across the country, it is no wonder that HardiePlank lap siding is the most popular brand of fiber cement siding. This type of siding offers homeowners strength, beauty and durability. It also possesses the unique ability to protect homes in a wide variety of climates. If you are planning to replace the siding of your home, be sure to look into James Hardie fiber cement lap siding in Kansas City from the preferred siding contractor in Kansas City: Sure Point Exteriors.
Now with the HardieZone ® System, the Hardie brand delivers when it comes to fiber cement siding with specific performance attributes that work for the climate the material is being used in. This adaptability means you get the maximum in performance for your siding, regardless of your location and climate.
Just as the roof of your home protects it from the elements and whatever gets delivered from above, your siding does the same but from the side. That means your siding has to be able to endure every type of weather related condition from the blazing sun in the summer to the harsh blizzard conditions of winter – and everything in between. Plus, it still has to weather this kind of environmental abuse and look attractive while doing so.
Fiber Cement Lap Siding
This is not only the best selling product for the reputable James Hardie brand, it is the most popular siding in the USA. You have a wide variety of styles to choose from, all of which are Engineered for Climate ® and even come primed, or with baked-on Color Plus ® Technology. Siding in general has come a long way in recent decades, and even recent years.
You don't have to feel as though choosing this ideal exterior remodeling material for your home will limit your color options either. The James Hardie collection comes in a variety of looks including Select Cedarmill, Smooth, Beaded Cedarmill and Beaded Smooth. Not to mention the color span is vast, including but not limited to:
Countrylane Red
Mountain Sage
Boothbay Blue
Monterey Taupe
Autumn Tan
and plenty more including the ability to customize your experience
Selecting just the right color and texture for James Hardie siding is part of making your experience a unique one. It means you truly can customize the high quality siding used for your exterior remodeling job. The best part is that these HardiePlank siding products are built to last and can be more durable than standard masonry products.
Fiber Cement Lap Siding Experts
As a James Hardie Preferred Contractor, we take great pride here at Sure Point Exteriors to be able to take care of you. Let us work with you to review the vast array of options that you have so you feel confident about the choice you make.
A professional contractor is only as good as their materials and quality materials are only as good as the installer who takes care of the job. What we have is the perfect pairing of superior quality exterior remodeling materials combined with exceptional workmanship for optimal results. Call us today to learn more about installing James Hardie siding in Kansas City.
If you are interested in an estimate for James Hardie fiber cement lap siding in Kansas City or the surrounding areas, please call 913-203-8812 or complete our online request form.